Tonights post is going to be rather short with lots of pictures. I need to get to sleep, so I can get up early and get back up there to help.I did want to get the pictures up quickly as I know there are lots of people interested in seeing the firefighters and what is happening in relation to the witch fire.
This is my little microcosm of what I am observing during this thing.
So this morning I found out that one of the command centers was in Rancho Bernardo at the Longs Drugs parking lot. So I headed off there with Roseanna to see if we could help.
The police let us through when they found out we were headed to help the fire fighters using chiropractic.
This was the first I saw of the burned area after the smoke had cleared.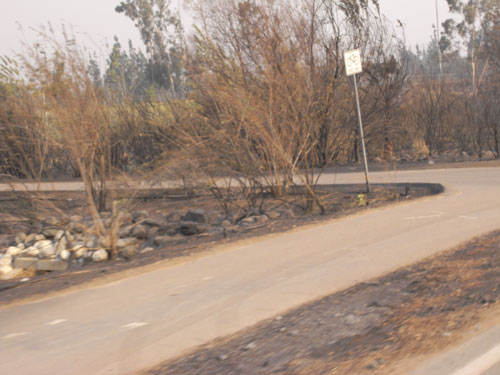 This was in Rancho Bernardo just west of highway 15 and just south of the big lake which I think is Lake Hodges.
The next picture shows some burned area that burned right up the hill to some peoples houses, and then the fire stopped. I bet with the help of San Diego's fire fighters!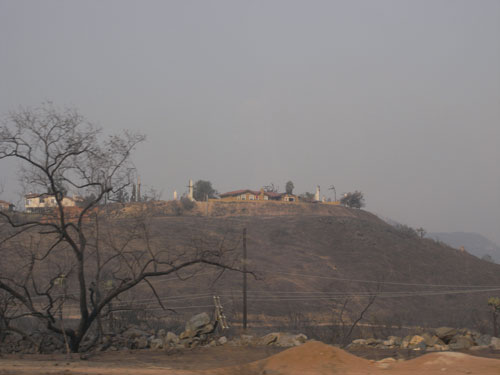 We then drove a little farther and I saw something that I did not understand. I said to Roseanna, "Take a picture of that, it looks really weird, What is that?" Then we both suddenly realized what we were looking at. It was three houses in a row that had burned to the ground with only a few vertical strips of wood sticking out. I have left the burned houses photos off of the blog.
We then got to the parking lot, and were immediately greeted with enthusiasm from the fire fighters, through open the table and said "Who's first?"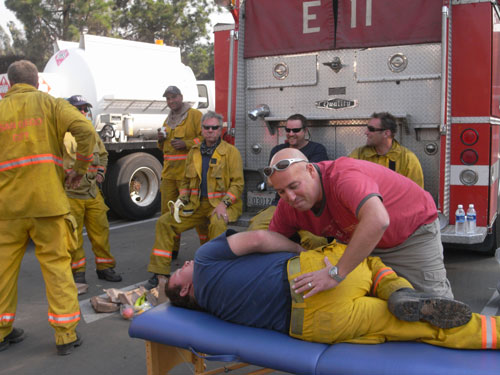 We found out a lot about these guys while we worked on them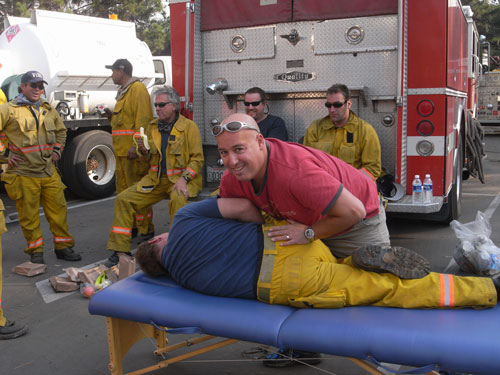 One thing was that most of them had not slept for 40 hours.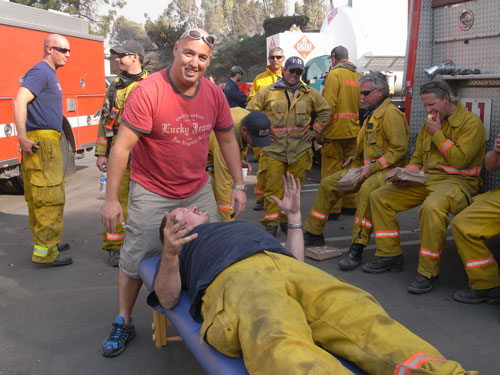 They had eaten two meals in the last 48 hours. I am going to repeat that. They had only eaten one meal per day over the last 48 hours, and right now was one of those meals.
Many of these guys had received chiropractic before, and many of them do it regularly.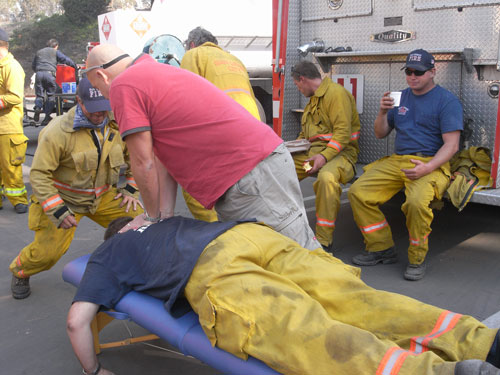 They were in great spirits. The fire fighter above is about to try to mess with the one lying down. I am sure my malpractice carrier will love that photo. Me working on someone while someone else is about to do God knows what? Remember most likely the guy crouching, sneaking up has not slept for over 40 hours and still has the energy to screw around.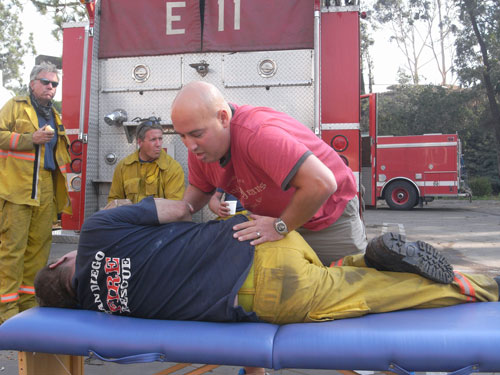 Again, the morale level was very high. These guys just a short time ago had been battling the blaze right on the front lines.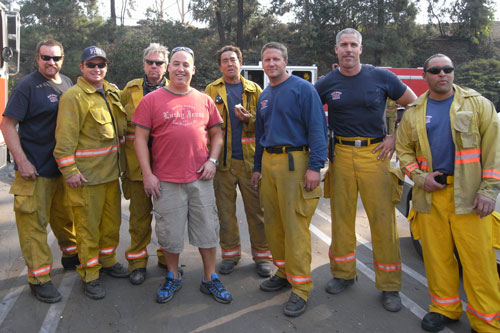 This is me with a group of satisfied patients. By the way, we asked everyones permission to photograph them for the website and all said yes. If by any chance anyone does not want their picture on the site, just e-mail me and I will take it off.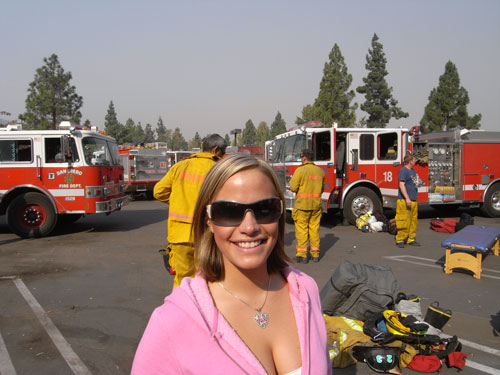 This is Roseanna Wheeler. She is our secret weapon. Everyone seems to love me when she is with me.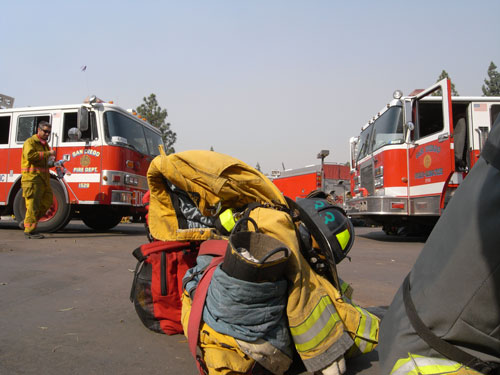 This is a bunch of San Diego fire fighting gear.
O.K. This is what broke my heart.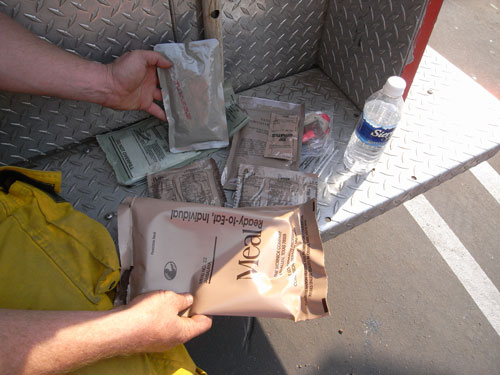 After getting only one meal for 48 hours, this is what the guys had to look forward to. If anyone knows me you know how much I love excellent food. These were like mush in a metal pouch. I am sure they are nutritionally sound, but not so hot for morale. The guys though were thrilled just to get to eat!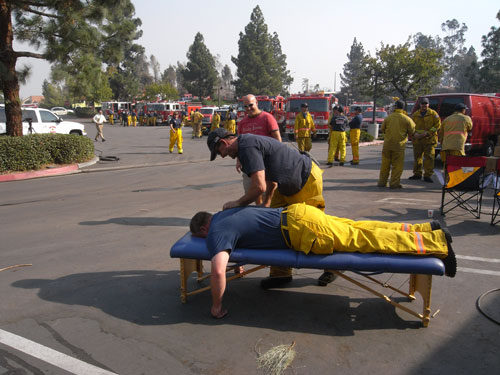 Again these guys have had very little sleep lately. Yet one of them snuck up and pushed me out of the way, so he could give a little massage to his team mate, who of course assumed it was me. By the end of it they both were laughing pretty hard.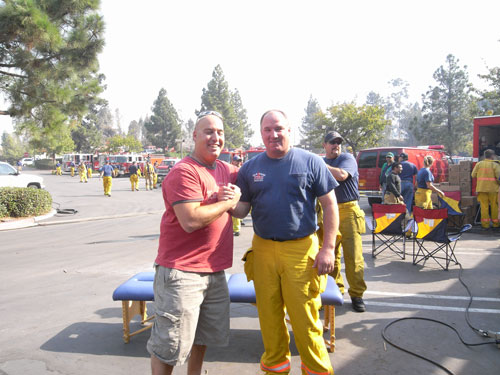 When they were not being totally silly, there was a lot of gratitude, honor and pride amongst these guys as you would expect.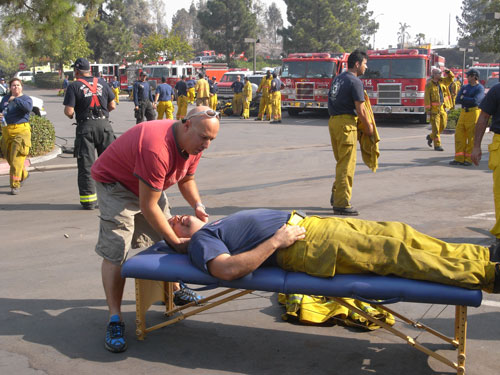 Some of these guys, especially the younger ones, had never been to a chiropractor before. Many of them were old hats at chiropractic.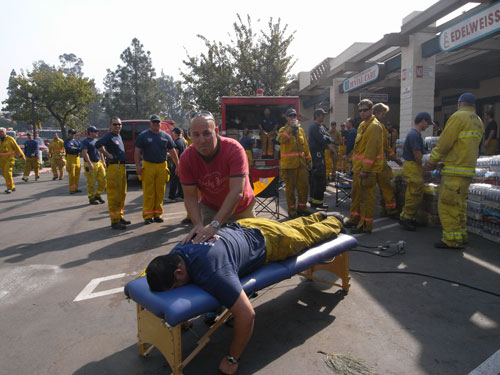 There were lots of guys to adjust. They did have plenty of bottled water though and Gatorade was good.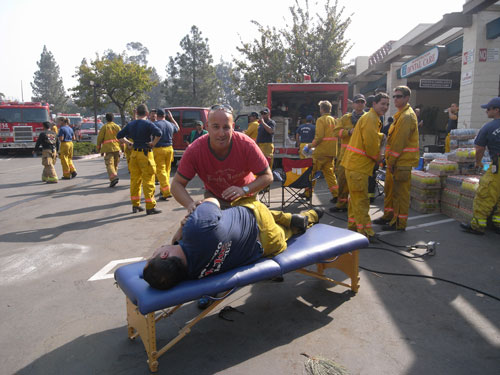 Here is more good chiropractic cracking in San Diego!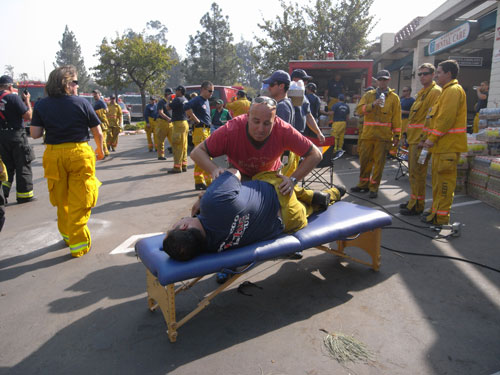 And another pic.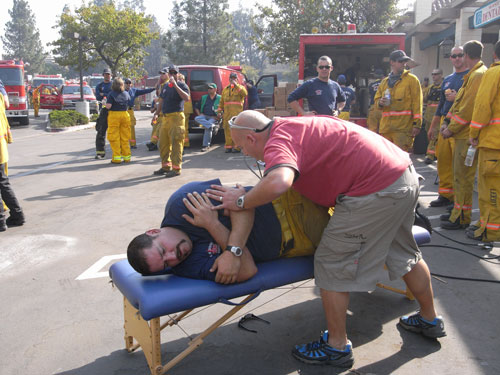 Who can beat a fire fighter with a handle bar mustache?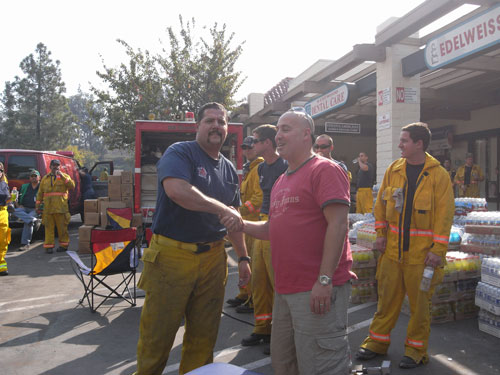 Especially a fire fighter with a handle bar mustache who's happy!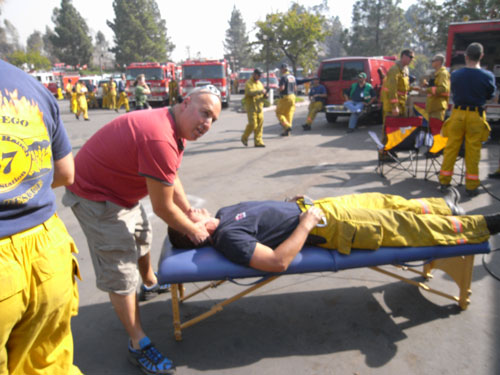 Again, I can not get over how much honest happiness and good work ethic these firemen exuded after working for literally two 24 hours straight!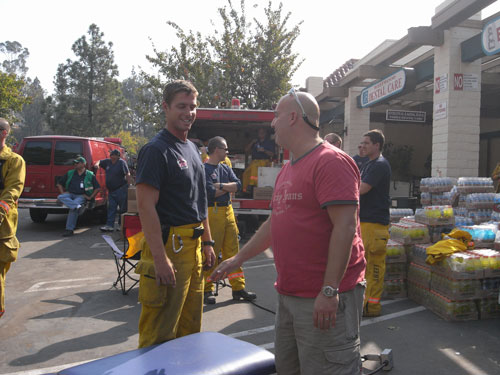 There was every kind of fire truck you could possibly imagine. They all looked in absolute top shape.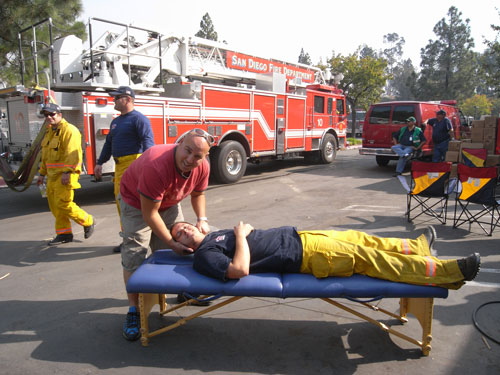 More San Diego fire fighters to adjust, and more fire trucks every minute.
There is always time to check out a cool undersea tattoo. This guy was a San Diego fire fighting surfer.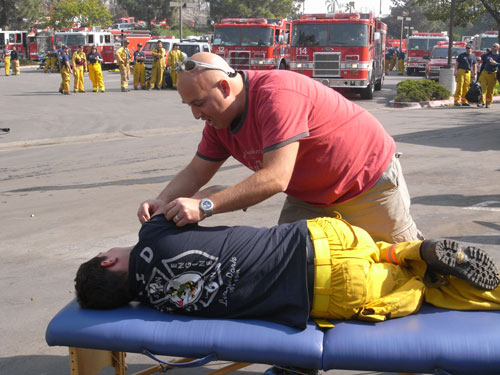 Another satisfied customer.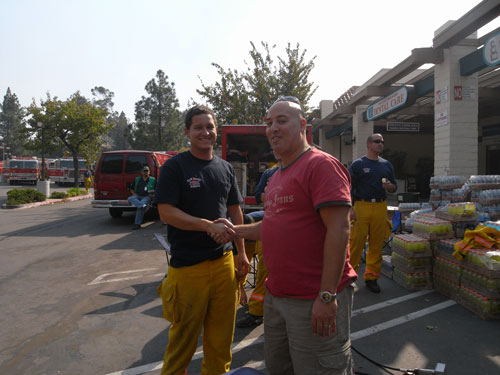 If I remember correctly this next fire fighter, also from San Diego, was about to leave for the fire in 2 minutes, and said something like "How long is this going to take" My answer, give me two minutes!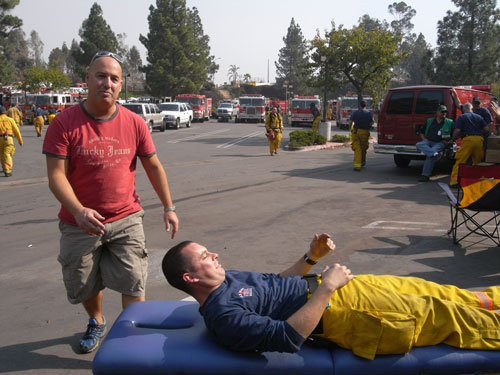 He still had time for the mandatory smiling hand shake with the chiropractor photo!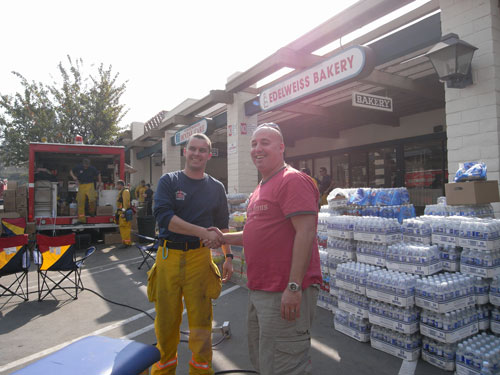 This was a shot of some sort of an organizational area they had set up in a laundromat. Any port in a fire storm!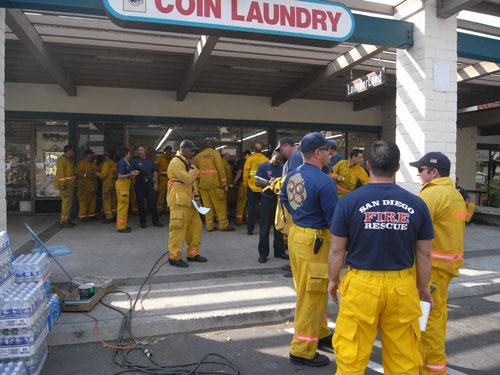 Another good shot of the guys risking their lives to protect our homes and city!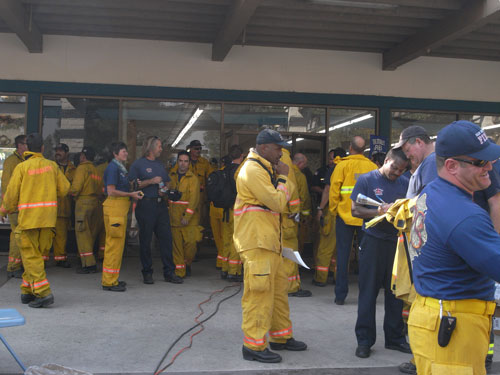 This was fascinating. The San Diego Fire Department was using transit buses to transport the guys.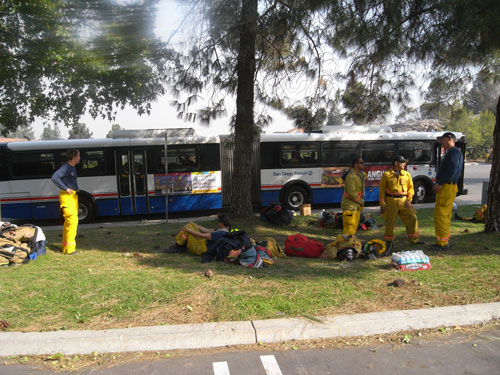 This next fire truck was amazing. It looked like something out of a space movie. It had to be the most advanced looking fire truck I had ever seen. It was frigging huge!! That is Miss Roseanna Wheeler our patient educator posing in front of it! If I was a fire I would be totally terrified to see this truck coming!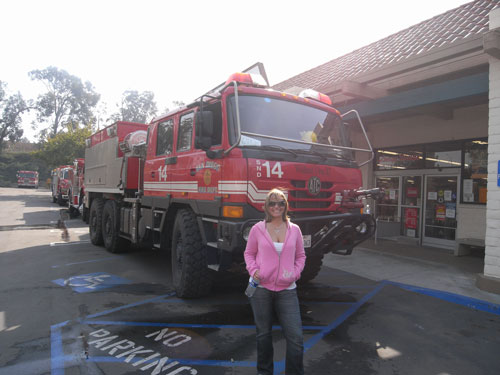 A photo of the chiefs car as we headed out!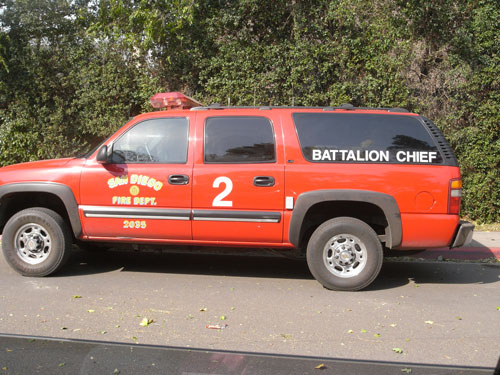 I am tired, and heading to sleep tonight.
For a moment I considered going to sleep and then just to work tomorrow, but I would have felt guilty with the guys sleeping on cement and eating crummy food. My lovely wife just came back from the store with a bunch of Naked Juice and protein bars for the fire fighters. We also are seeing if we can bring a few more luxuries for them tomorrow! Stay tuned!
In case the above and my actions did not say it. It is an honor to help and serve those that risk their lives to help and serve. As a lifeguard and a public servant my whole life I encourage all of you to do what ever you can to help those around you. When the world is in flames and even when its not!
I also have an important message one of the fire fighters insisted I communicate to our thousands of readers. I will post it just as soon as I have a moment, but it is very, very important, and could make things much easier next fire, which of course will come..
Click here to read about Day 1 at the fire.
Dr. David Klein