So day 3 we decided to feed the fire, fighters that is! Hector one of our patients, came along to carry the tables.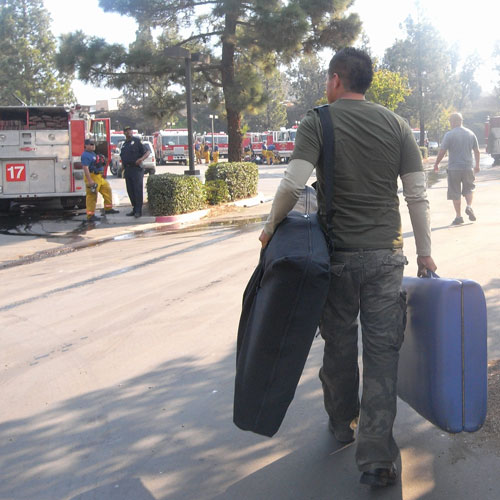 Our first patient was a repeat of yesterday. He was happy to see us. He was also happy we brought him a Naked Juice. They still appeared to have only military food M.R.E.'s in packages, water and Gatorade. My wife bought $200 of fresh juice and the guys were thrilled with it.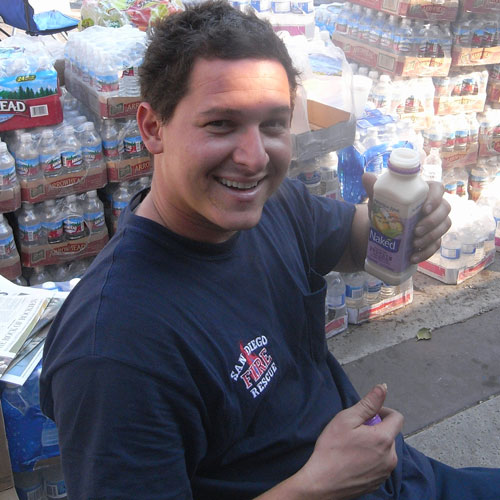 Like I said, the juice was a big hit.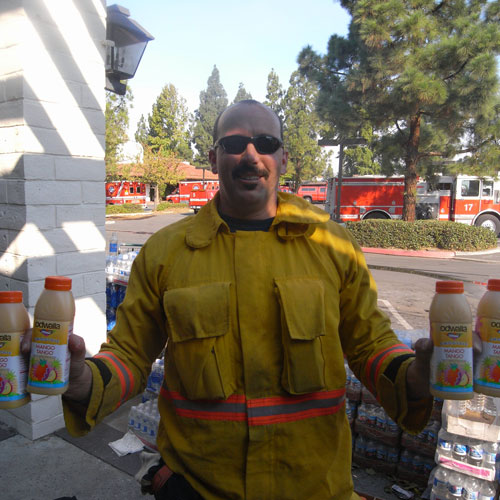 Fire fighters got juice and they got adjusted. I must admit, because I have been doing this each morning, and then practicing all day, my body was starting to get ever so slightly tired. My spirit though has been soring.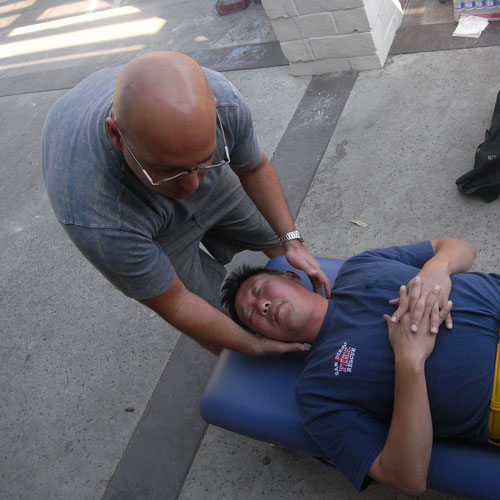 This was a cadet. He had the cleanest shirt of anyone we have seen so far 😉 I have no idea how he pulled that off.
He grabbed juice for his crew, and then was off to the truck.
We also bought some boxes of protein bars for the guys. One of them asked how old the box of Gold bars was. I answered defensively "Brand New, We just bought it, why?" He responded his picture was on the last version of the box.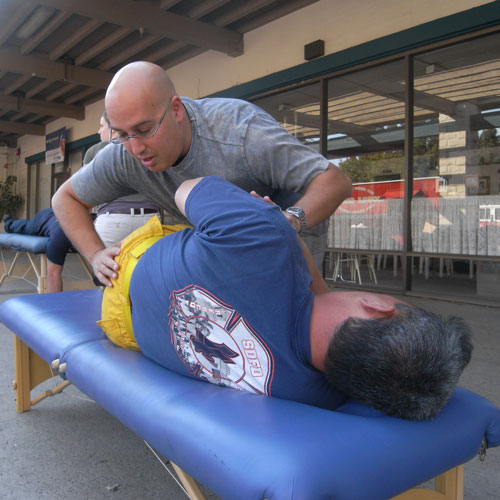 Again, plenty of cracking.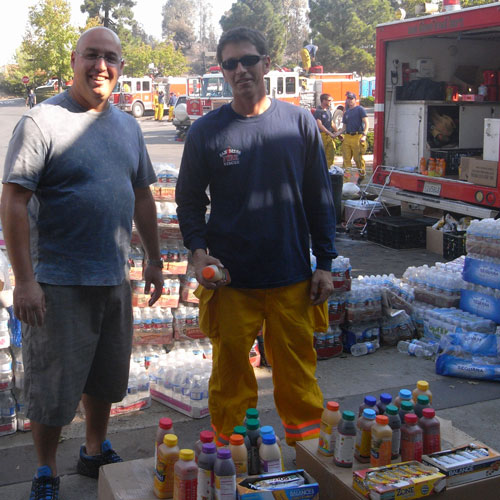 I can't tell you how grateful they were for the fresh juice. There was barely any fresh food to be seen. We have a big surprise for them tomorrow in this area.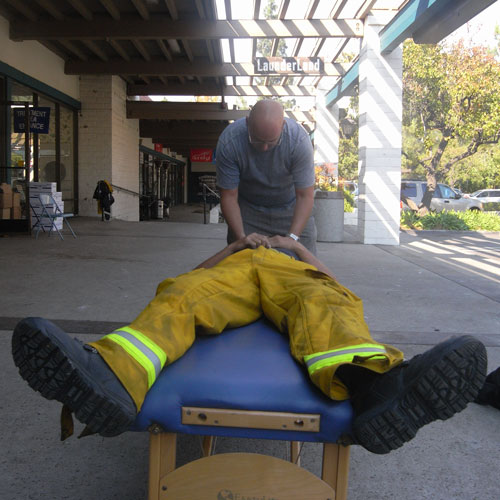 Roseanna had taken so many fire fighter adjusting shots, that she has started to develop it into an art.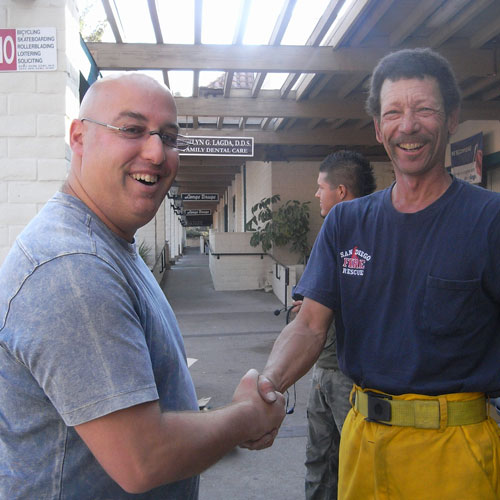 This gentleman was very happy to get a little chiropractic adjustment.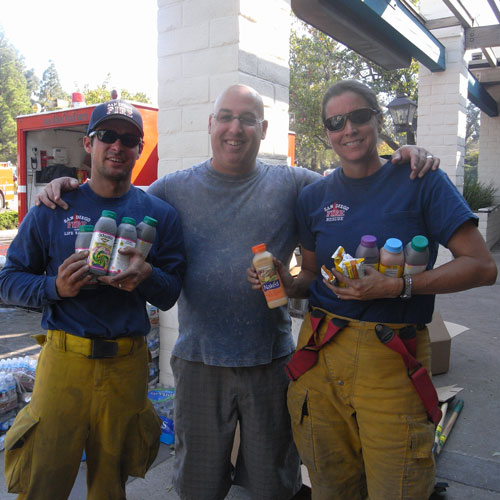 More happy owners of fresh squeezed juice on their way back to the flames of San Diego.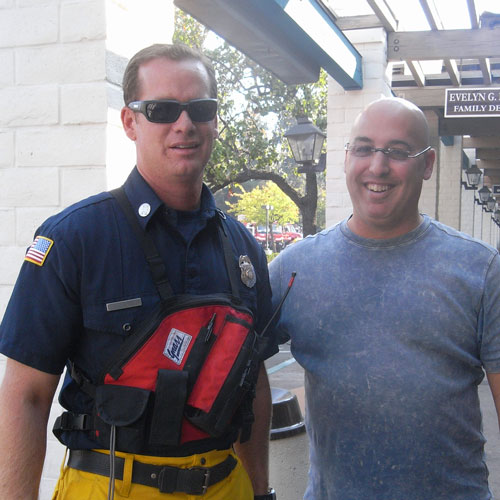 Yet one more of our hard working San Diego fire fighters.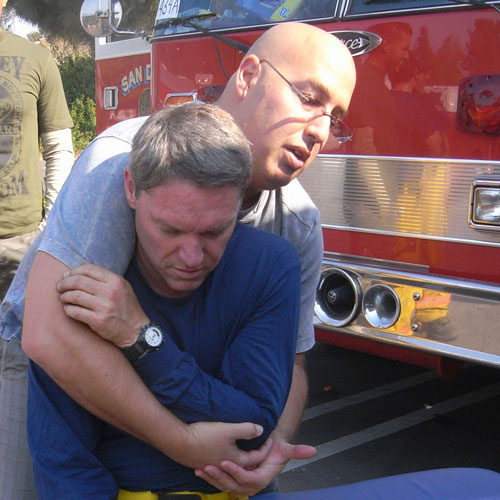 This is a shoulder move I learned from Dr. J. R. Welch to loosen up everything from the ribs, to the clavicle and the scapula.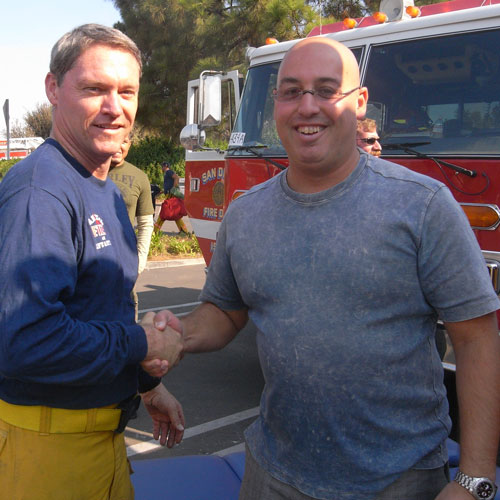 He was a very happy man when we were done.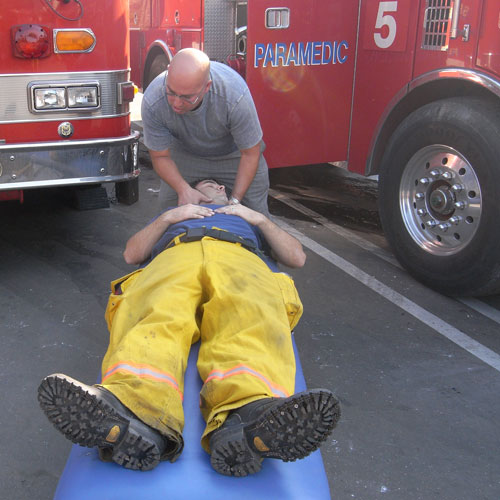 More excellent chiropractic shots with the soles of shoes as the main feature!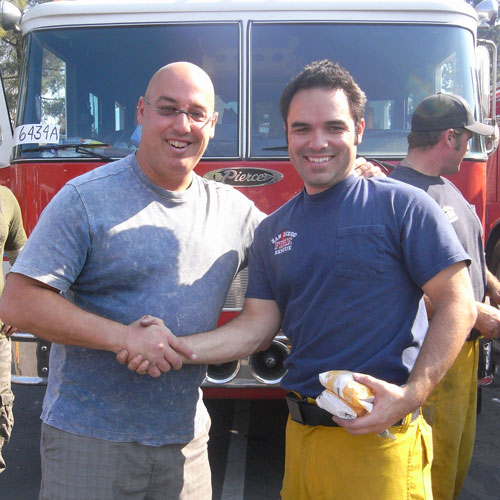 A guy came by with a bag of breakfast jacks from Jack in the Box, and said who wants a breakfast jack? They were soon all gone.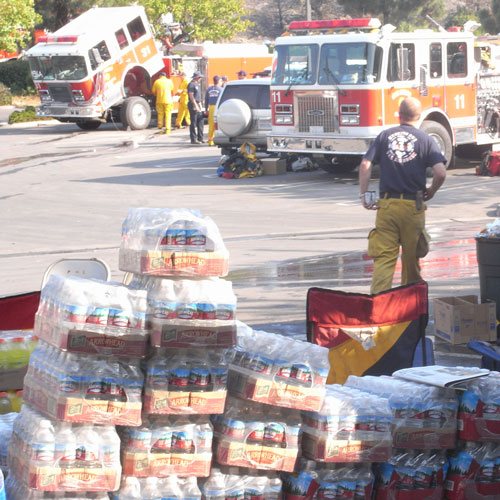 Cool shot of them getting access to the guts of the fire truck.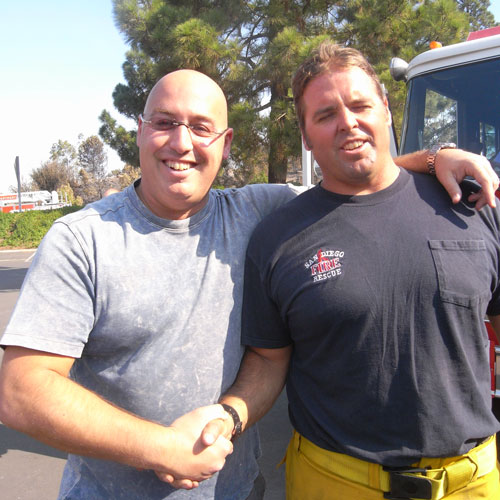 This gentleman is still enjoying that moment after the chiropractic adjustment.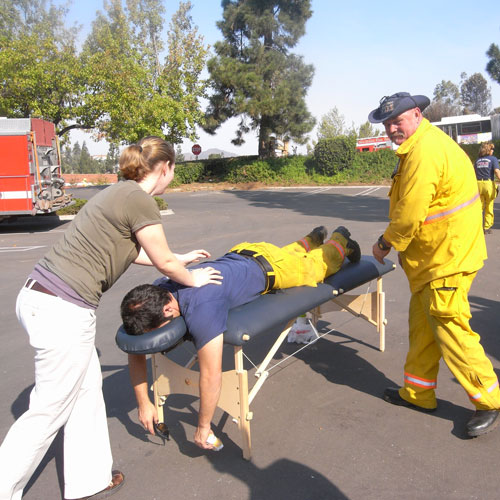 The shot misses it, but the look on the fire fighter with the cool hats face gives you an idea of what he is about to do.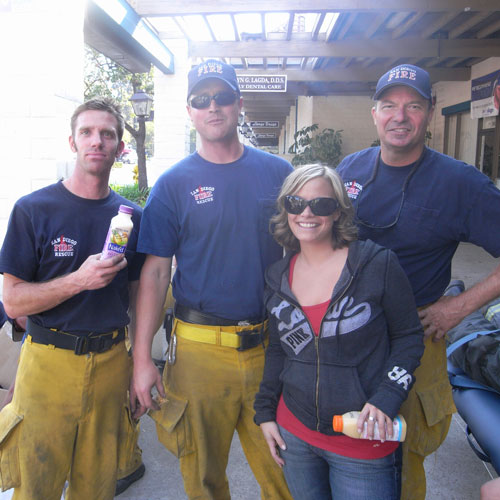 What could make fire fighters happier than a cute girl and fresh squeezed juice?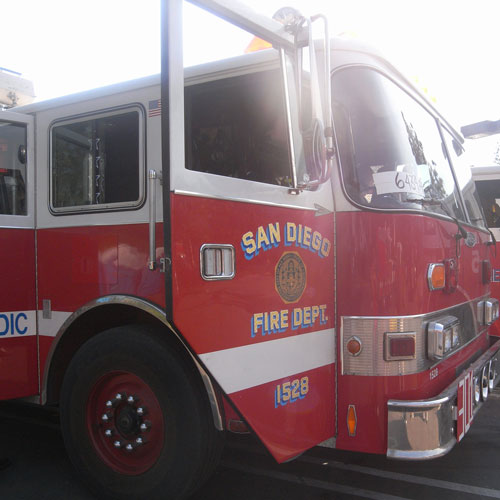 The trucks were amazing. I felt like a four year old just getting to check them all out and see all the cool parts.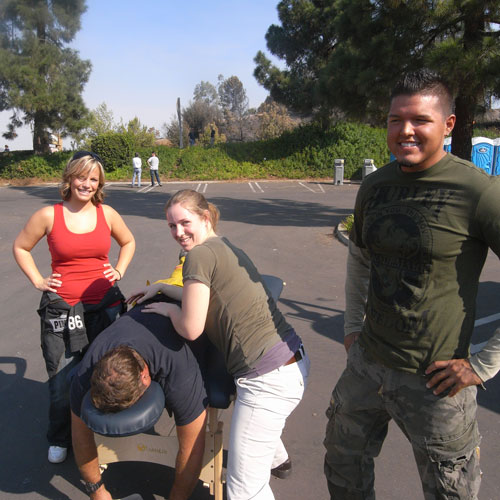 This is Amanda Zweifel-Jones, formerly Amanda Jones, one of our patients, who until just recently was in the Navy doing classified work and now is doing massage as a career. Can you imagine coming off of working for 48 hours on the fire, hitting the parking lot, and finding Amanda waiting to work on you? Amanda volunteered to come along to day and work. As we keep telling people, give of yourself until it hurts a little 😉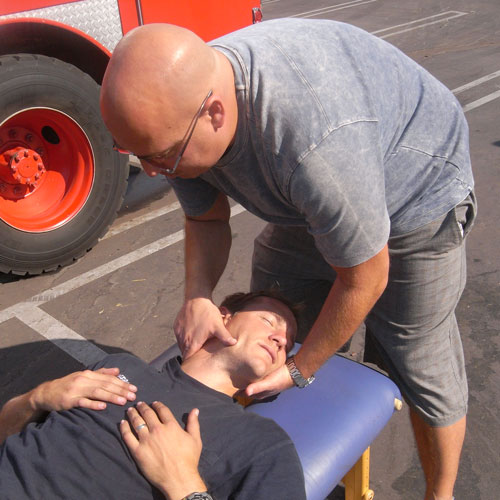 This is called a modified rotary break adjustment. I hate that it has the word break in it! It always looks painful, but if done properly feels like butter, and can allow a body to heal from the most amazing things. I have done this move hundreds of thousands of times and never had anyone have anything worse than feeling a bit sore the next day from it.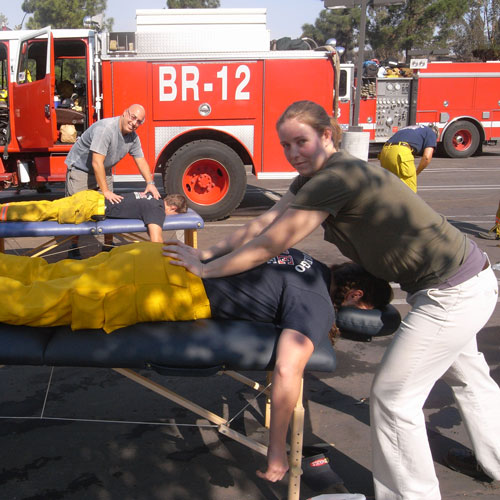 I was very proud to work side by side with Amanda. Don't you think every fire scene should have this going on? Remember even San Diego's professional football players don't have to play longer than a few hours at a time. These guys might work on the fire fore 24 hours straight without a break.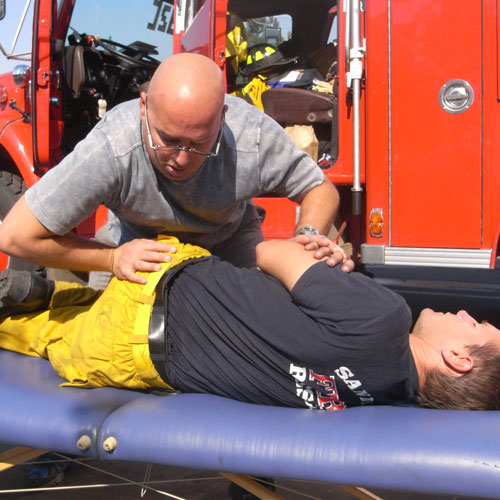 Keeping the firefighting team moving!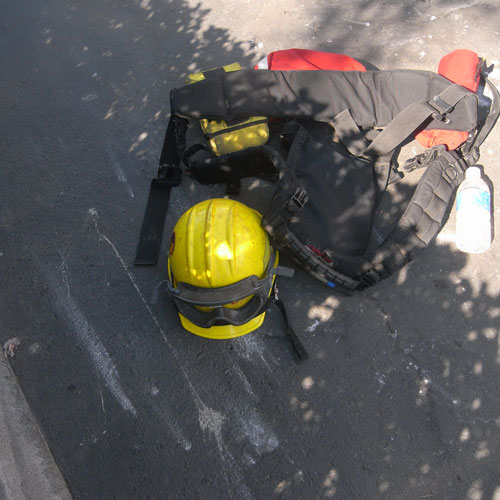 A pile of Fire Fighting gear.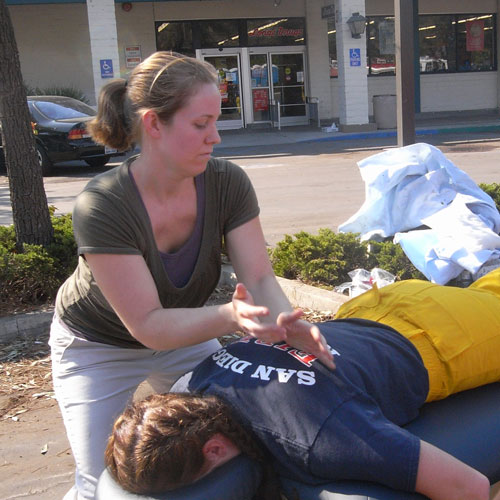 Amanda went all out and obviously was not trying to conserve her energy. She gave them everything she had.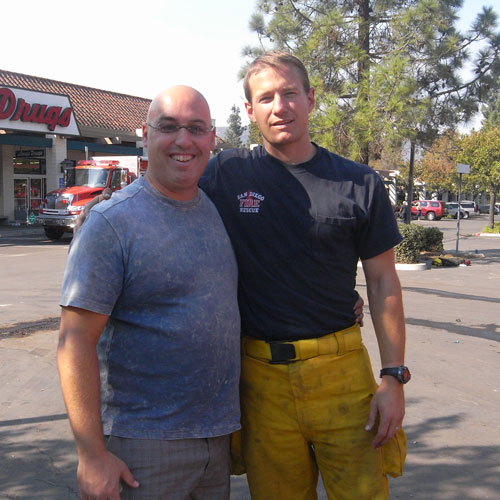 This guy was very appreciative and grateful. The dirtier they were the more proud of them I was. I miss being an ocean lifeguard, so just being around emergency workers makes me feel like a little part of the team.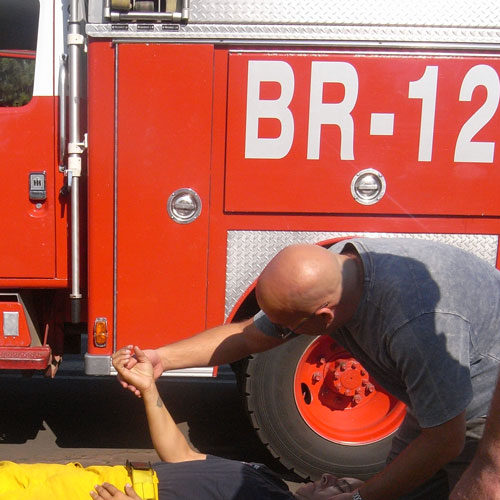 Again, never miss a chance to check out a tattoo!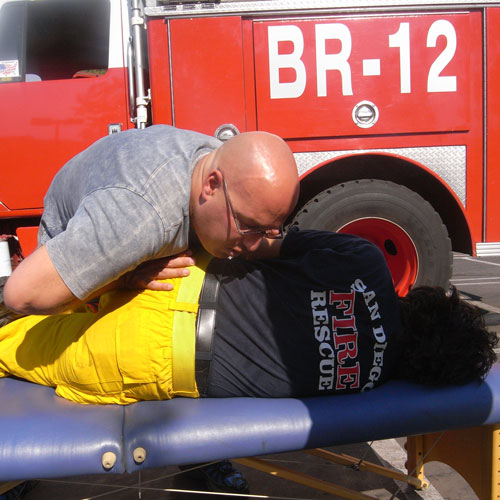 Back to chiropractic business!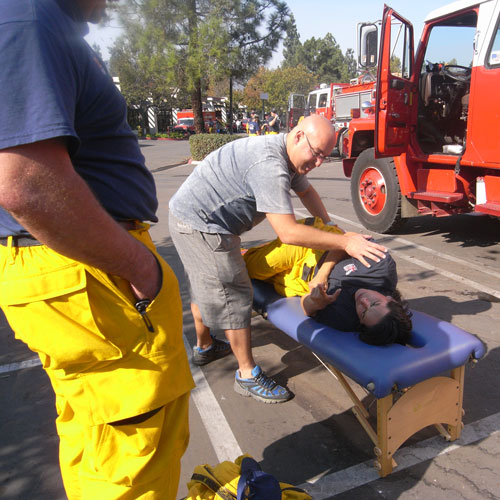 Another proud juice owner!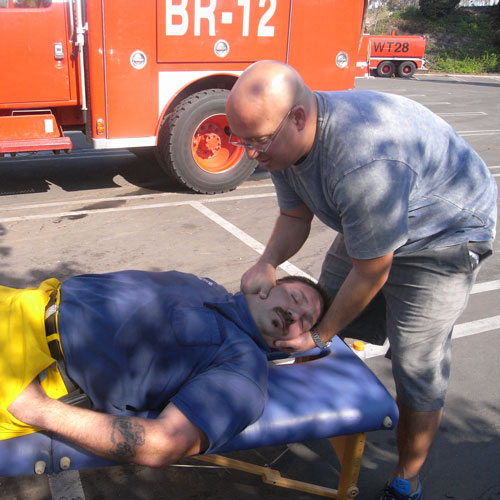 The perfect fire fighter with a mustache! He used to be a Navy Seal stationed at Coronado.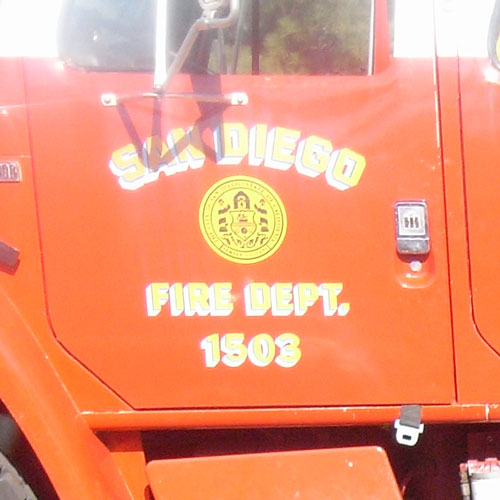 More fire trucks!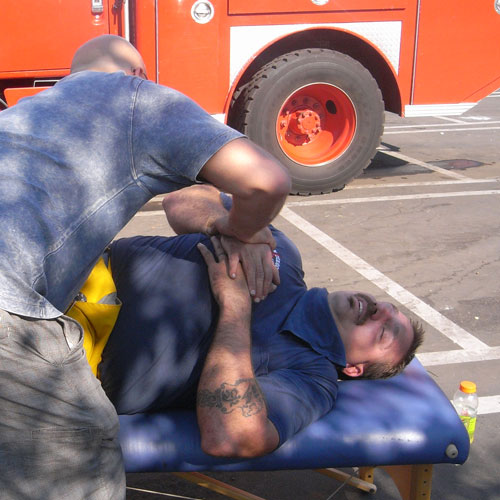 Can you imagine the abuse a guy would have taken after being a Navy Seal for years, and then being a fire fighter? He was a chiropractic expert!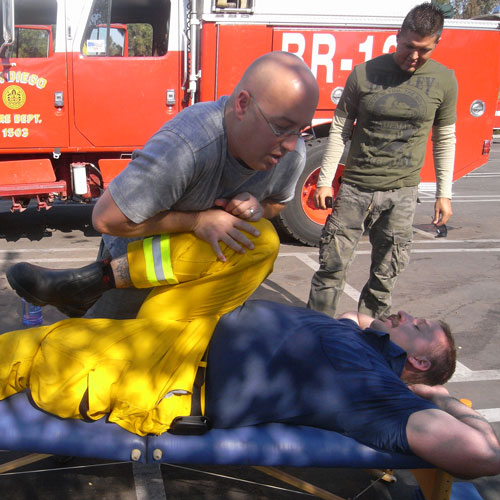 He told us all about his hip problem, and when a gentle adjustment would not quite do it, then we stretched it….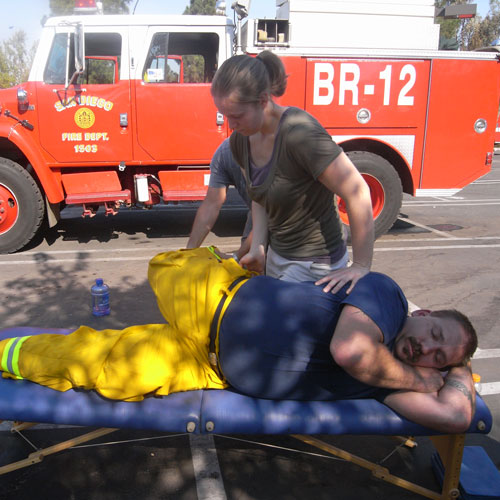 but to get it to release all the way…..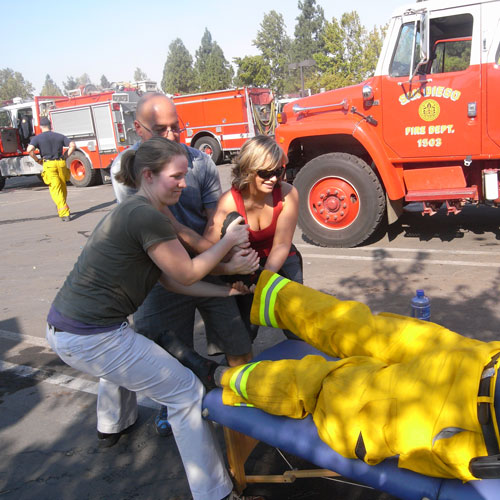 It took a whole team effort! Again, please don't show this photo to my malpractice carrier! 😉 He was so happy after his hip released that he invited us up into their super SUV! This thing can drive straight up cliffs and drive over small trees. If anyone feels that the work we did deserves some repayment, please buy me one of these so I can feel safe on the road!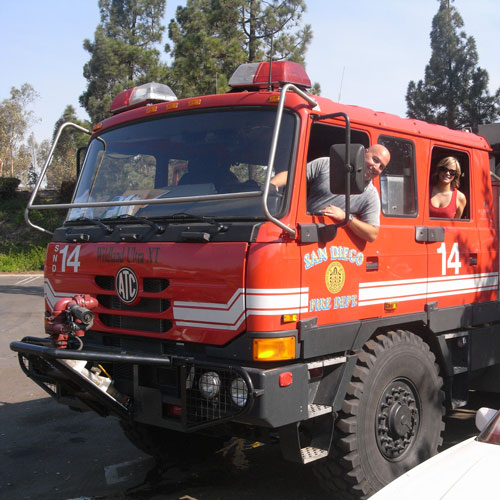 Hector and Amanda got into the truck for the photo too. I actually felt slightly guilty about wasting time on this, but the ex-Seal gave us some encouragement to get in. You literally have to climb up a ladder to get into this thing. You can see the vertical ladder steps on the side to get in. Notice the lady firefighters head is about the same level as Hectors feet. You're head is about 10 feet off the ground in this thing. It must be a bear to parallel park!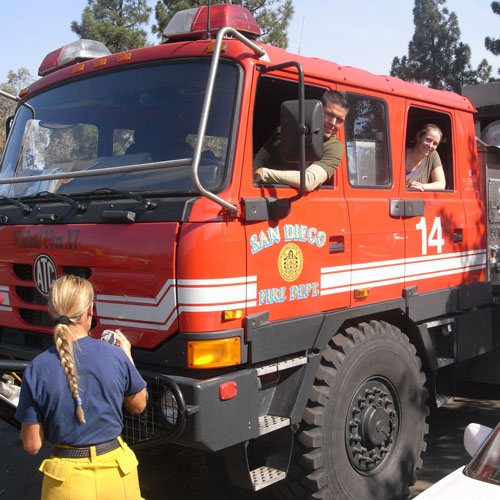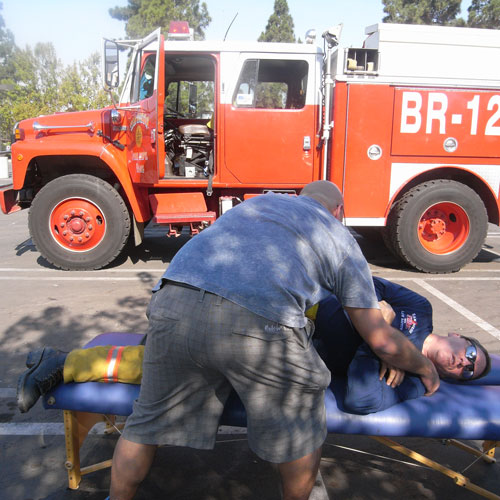 This fire fighter was excited to get his low back fixed up.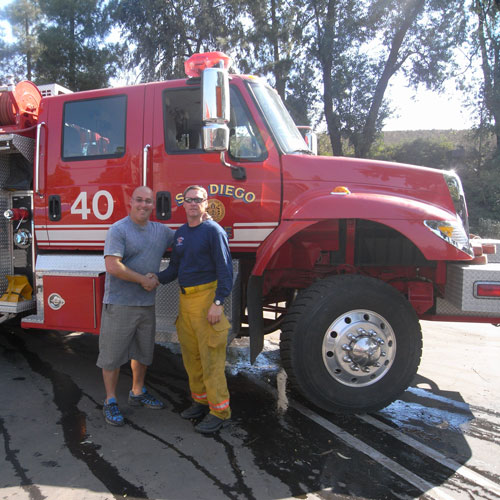 Then we got a shot in front of his BRAND NEW fire truck. This was much more classic looking and was just beautiful. It just shined. These guys are very proud of their trucks.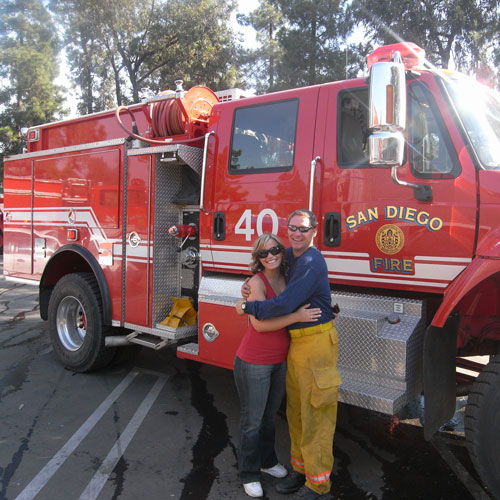 The guy looks much happier though in the photo with Roseanna!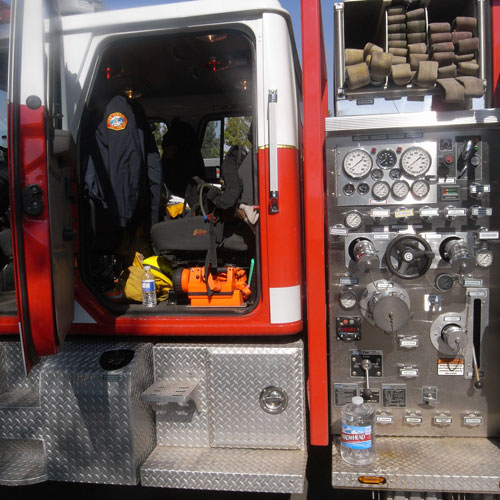 Again, I just love the detail on the trucks.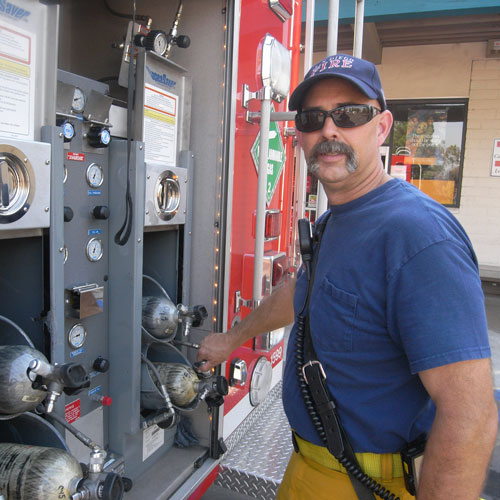 This guy was in charge of the air tanks for the fire fighters. When the smoke gets bad enough they need to use another air source because the hot smokey air would kill them.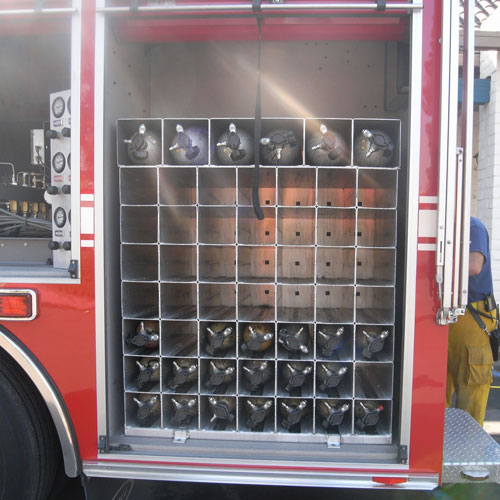 Here is where they load the air tanks into the truck.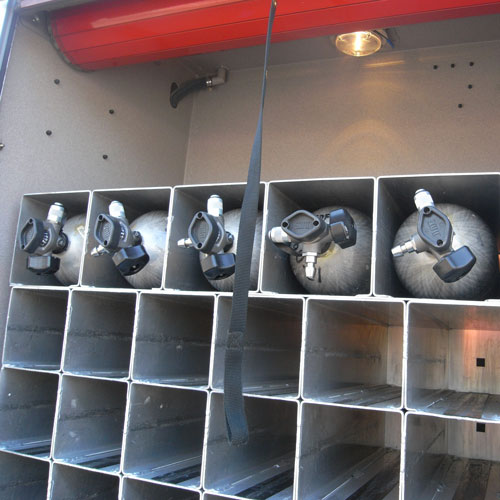 Here is a little more detail of the tanks. They look a lot like scuba tanks.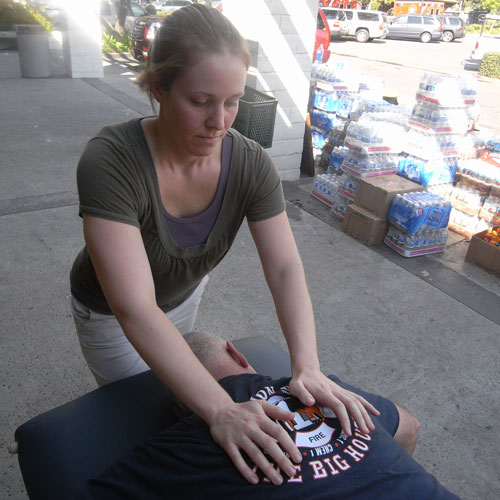 Just as we were about to leave this firefighter got Amanda to work on him.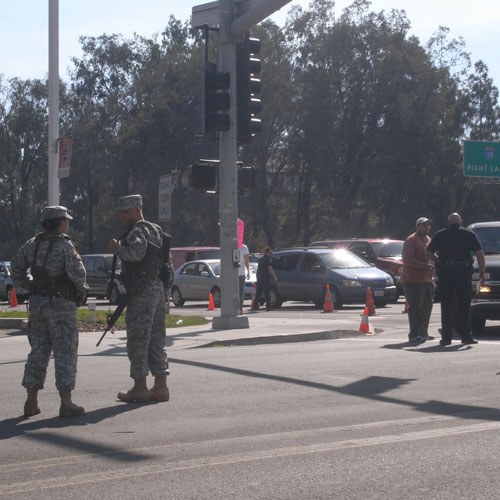 The National Guard was out in force to protect the homes from looters. Everyone we saw was very under control and the city feels extremely safe, except obviously where the flames are.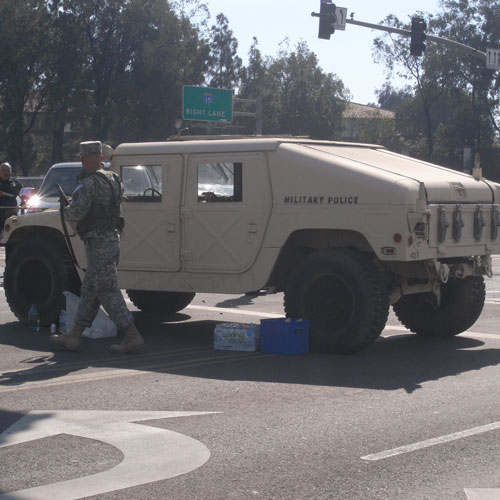 Another cool truck. I would also be happy to drive this one around.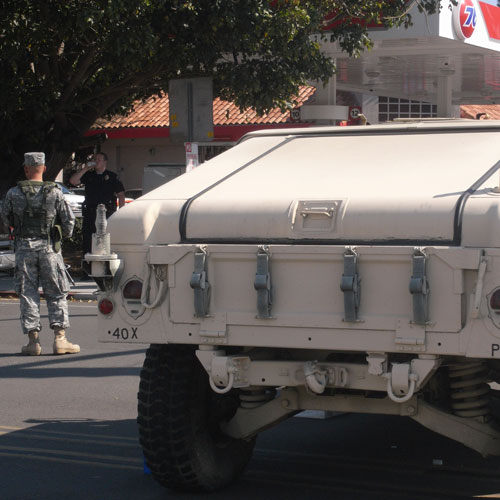 The back of the Hummer.
Well that is it. Just as I am finishing this at 8:00 P.M. Wednesday night, I am about to go back out and see what other good I can do. We have some nice surprises for the firefighters over the next 24 hours!
Dr. David Klein