So after going out the last few days and seeing the food the fire fighters were eating on FireStorm 2007, we decided to do something about it!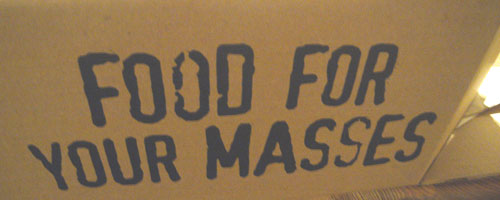 I called up my buddy Kevin who is the manager of the Chipotle store in Pacific Beach. If you know burritos in San Diego, you know Kevin. He used to be at the store in La Jolla, but they moved him to run the Pacific Beach store a few months back. We told Kevin we needed burritos for the fire fighters and he simply asked, how many, and when?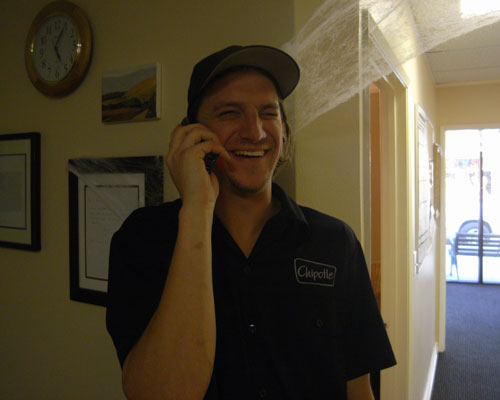 Keven then called the Poway Chipotle and got them in on the act. Together the two stores donated around 60 or 80 burritos. We never had a chance to fully count them, but there were a ton! I picked up the first box on the way home from Seaside.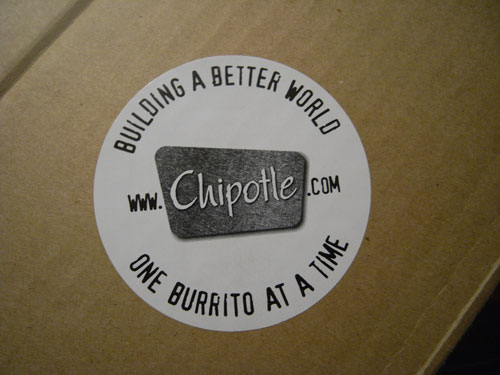 I picked up my wife and we drove to Poway to pick up the other box of Chipotle burritos.
The crew was there to meet us in Poway, armed and ready with a big old box of burritos. I was happy and surprised to see my old buddy, who is the woman most in the front. I had last seen her when she worked at the La Jolla Chipotle.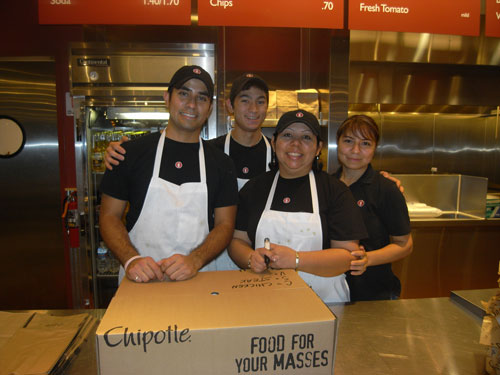 We then drove up to Rancho Bernardo to the Longs Drugs where the post had been with all the fire fighters the past few days. We got through the police barricades after one officer said with a straight face, "If you give me a Chipotle burrito, you can go anywhere you want!" He obviously was joking, would not accept a burrito, and after checking my I.D. allowed us in past the police roadblock.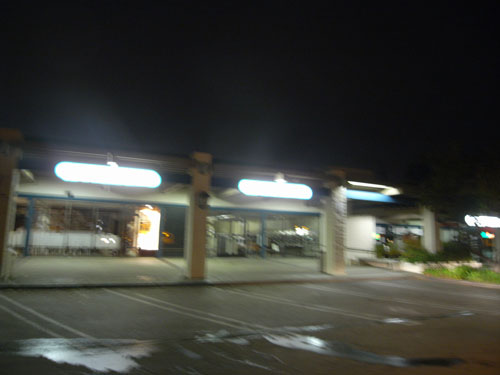 We arrived, ready to solve FireStorm 2007, but all of the fire trucks and fire fighters were gone! Whoosh!! It was like a magic act. We ran into a few city workers who told us the camp had moved up the road. We then got stopped by a police patrol looking for looters, and we had to explain the whole story about delivering chiropractic to the firefighters all weekend, and now we had Chipotle. They examined my card, made a few good burrito jokes, and then gave us a genuine police escort to the Firestorm fire fighters.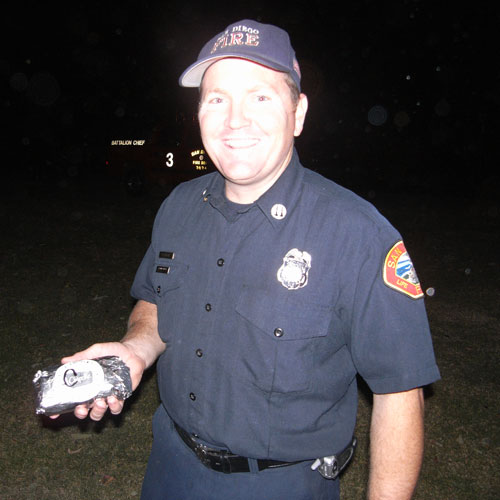 Our first burrito customer was very happy we found him. It was basically completely black there, and felt like a camp ground. The guys were all sleeping on the grass in the baseball field area.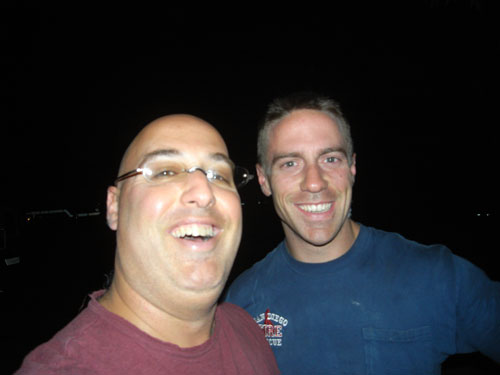 This guy, I met in the black of the night and asked him "Would you like a Chipotle burrito, and an adjustment?" He was a bit confused, but once he realized what I was doing, was terribly grateful for an adjustment. These guys have been fighting fires for days now with very little sleep, and are ready to get adjusted.
We took care of the crew at that park, and then were directed to the main camp set up just north of Lake Hodges. As we left the secured area we met the guards at the entrance who were part of the National Guard. They also were a little confused at first, but when my wife mentioned Chipotle Burritos, they got the idea and were really excited.
Suddenly their superior arrived in the Hummer and I thought they were getting in trouble. Nope, he was just ready for a burrito too!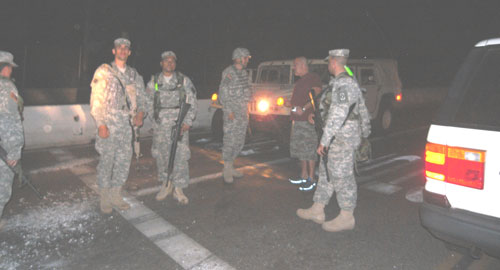 The guys were very grateful. They were basically spending their night standing guard at an entrance to the evacuated area where very few people were even driving through. So they were very happy to see us and get their burrito! Those are not hand grenades we are holding, but Chicken and Steak burritos!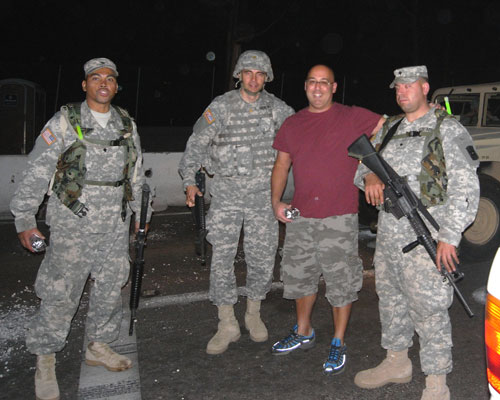 We then went to the next exit north of Lake Hodges off of highway 15 and found the main camp of the fire fighters. We pulled up to the first group of them got out and offered them chiropractic and burritos. Then the fun began!
These guys were from my home town of Los Angeles so we had things to talk about, but mostly a lot of cracking. About one out of 4 of the guys I have adjusted this week on Firestorm 2007 have never been to a chiropractor before. I love spreading the word, and watching the smiles when they stand up.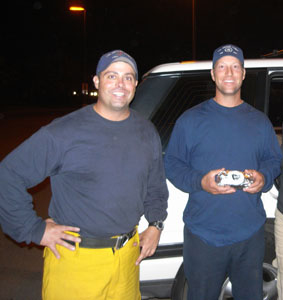 The guy on the far left of the picture with the biggest smile and his hands on his hips had a great story. They had all just come down from the fires in L.A. county and had been working hard for days. He said that today he was telling the other guys that he could really use a chiropractic adjustment, and then all of a sudden at 10:00 at night, this chiropractor and his pretty wife show up out of the darkness offering Chipotle burritos and chiropractic adjustments. He felt great after his visit, and could not believe we had just shown up in the middle of nowhere in the middle of the night.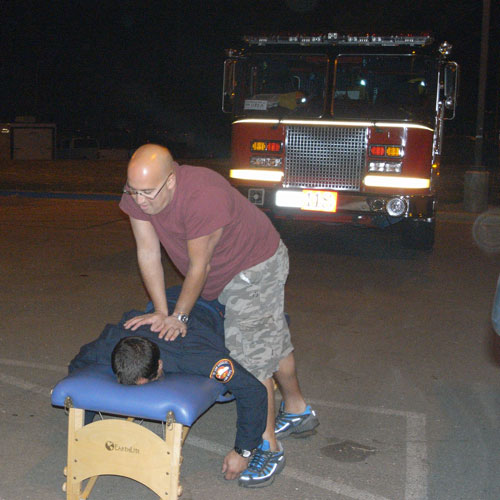 This guy was a veteran chiropractic patient and was thrilled to get loosened up and ready to hit the fires tomorrow.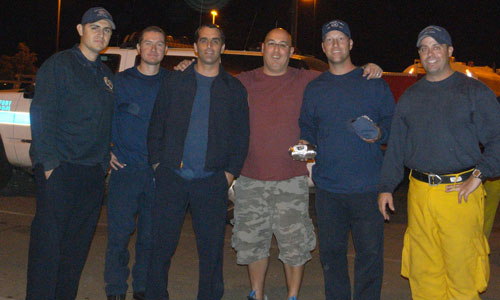 These are a group of my home boys from L.A. after getting adjusted. It felt good to connect to people from Los Angeles, even though I am thrilled to get to live the life in San Diego.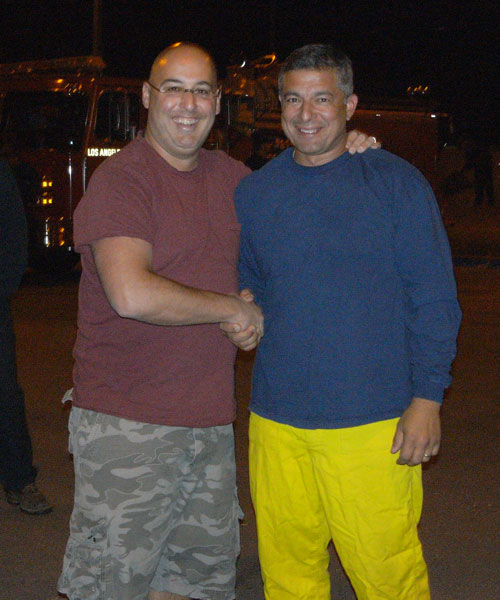 A lot of these guys were like the guys I grew up with. Real Los Angeles Chicanos. Very confident, friendly and proud. A very beautiful mixture of two cultures. I feel very at home in this group as they are who I grew up with.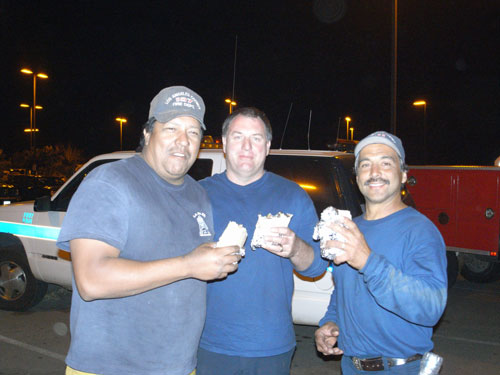 Three happy burrito pals toasting Chipotle.
Then we went looking for more customers and found these guys working the kitchen. I believe they were visiting residents from a local prison. We asked if they wanted Chicken or Steak burritos. We got all Steak orders.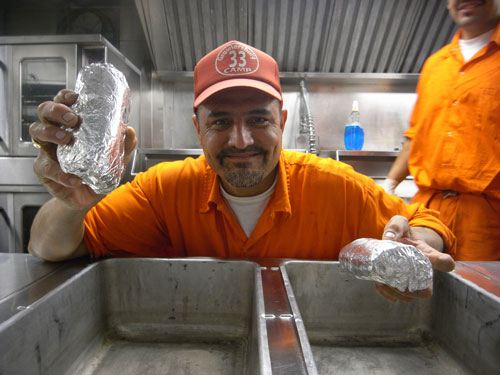 They were thrilled and very appreciative. My thanks to all of you guys for coming out and helping with the fires!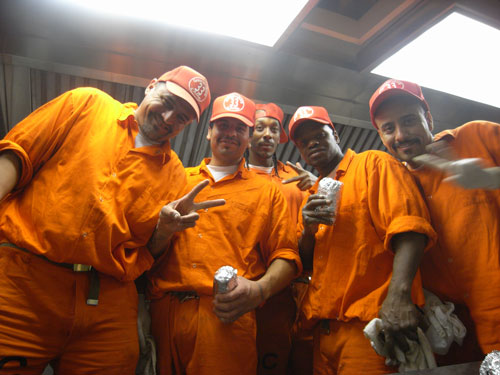 Then as I walked through the middle of nowhere I met a guy who needed an adjustment. I said lay down!, opened up my table and got to work. By now it was close to midnight.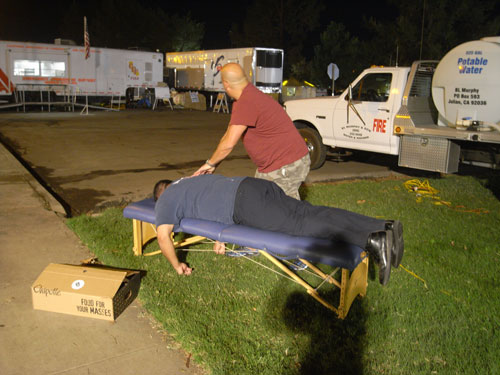 I am not the smallest guy, and a lot of these firefighters make me feel puny.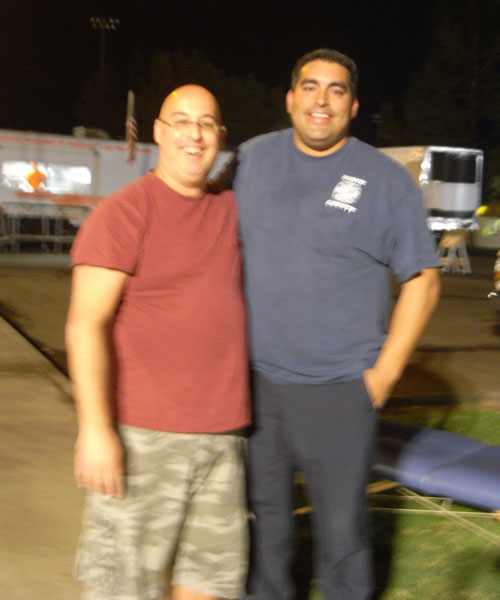 Then we found an Escondido police man and a sheriff who were ready for some of our last burritos.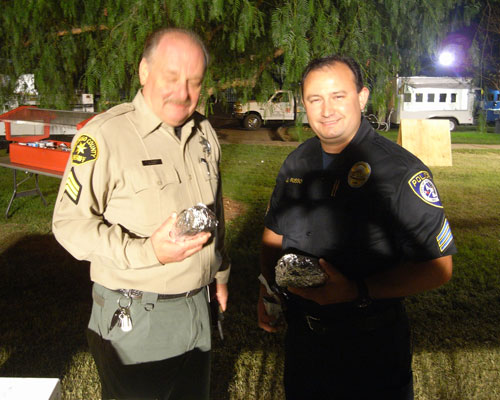 We met these last two guys on the way out of the FireStorm 2007 camp.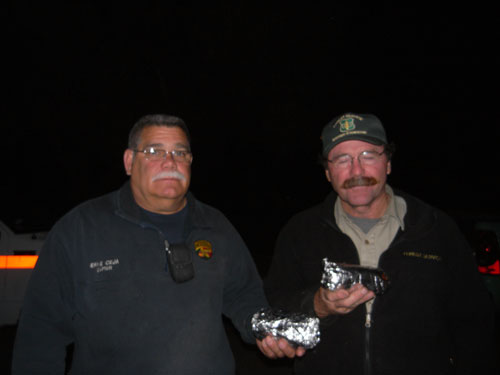 We still had a handful of burritos left, and we passed an evacuation area checkpoint that was being guarded. We pulled up to all the nice armed gentlemen and offered them Chipotle burritos.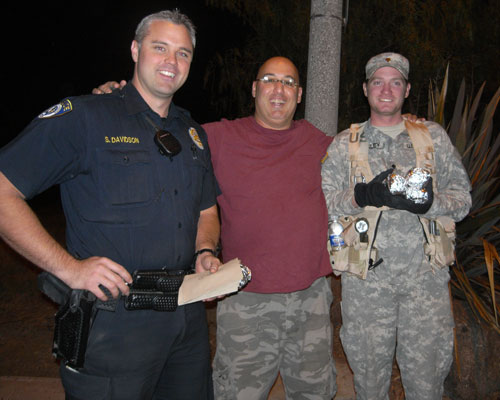 We got some big smiles and thank yous.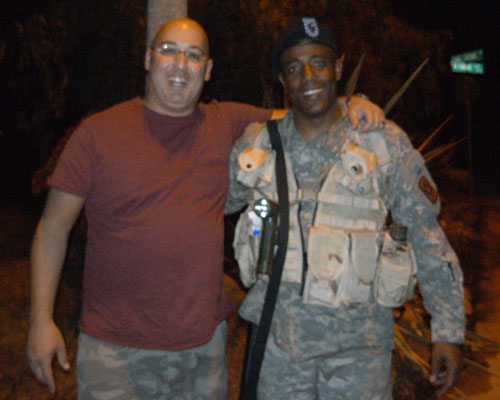 This was the coolest looking guy of the day with the beret. When we left he was armed with a burrito and ready to protect the city.
Then a little after midnight my wife and I drove home. I ate my burrito when I got back. It was excellent! It is now 2:00 A.M. and I am going to sleep. Tomorrow morning we are going to go out and help again and then I have another day at Seaside Chiropractic. After that I plan on sleeping a little.
I can't feel too sorry for myself though when these guys are spending 24 hours or more without sleep to protect the rest of us.
Thank you to everyone from the city workers, to the Firestorm 2007 fire fighters, to Kevin and the rest of the Pacific Beach and Poway Chipotle's, to the police and the sheriffs, the convicts, and the National Guard, and everyone else. I heard about some other chiropractors out there keeping everyone going and I appreciate you guys too.
Good Night from me and my wife!
Dr. David Klein