On Tuesday, the second big day of the fire, we were out in Rancho Bernardo doing chiropractic on firefighters in the evacuated zone and heard their stories. We were told by some of the firefighters that they had received only two meals in a 48 hour period.
On the drive back to the office I called one of my good friends Kevin Kupper who is the manager of Chipotle burrito restaurant. Kevin understood the problem and said he would get right to work on it.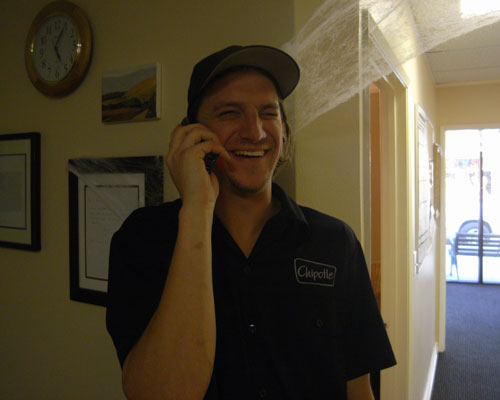 (Kevin making the call to get the burritos "rolling".)
By 8:00 that same night Chipotle Pacific Beach had a box with around 35 Steak and Chicken burritos hot and ready to go. I went home, grabbed my wife and we took off into the night.
We stopped at the Poway Chipotle store and they doubled our burrito cargo. Now we had around 70 burritos.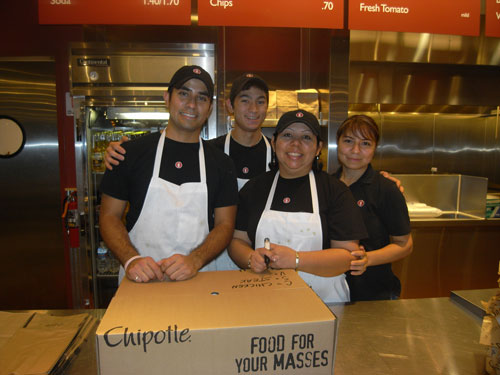 (The Poway Chipotle crew with half of the big delivery.)
We found the firefighters camping out in a park in Rancho Bernardo. We got a police escort to the park after they realized we were not looters, but burrito deliverers. So escorted by the police, we arrived at the park. With no light to see by, I wandered the park and spoke to the firefighters and left them with a warm burrito to keep them company!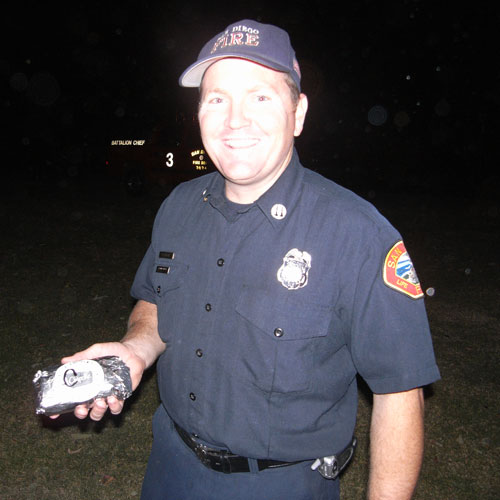 (Late night dark park burrito delivery!)
As we were leaving the closed off evacuated zone, we had to get passed a National Guard Checkpoint. The boys looked very serious until we offered them a Chipotle burrito. Can you imagine standing in the cold of night on a dead quiet street in an evacuated zone when a couple pull up in a Range Rover and offer you a Chipotle burrito?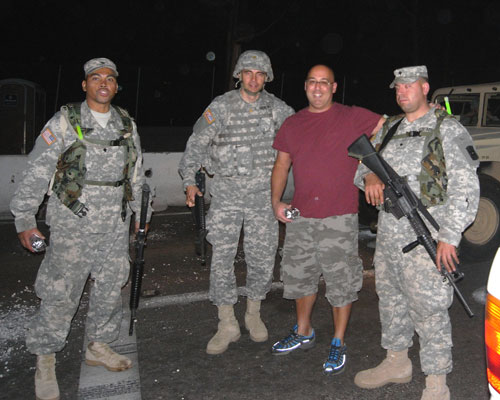 (Those aren't hand grenades we;re holding, but burritos!)
After a few minutes a military Hummer pulled up and the guys got a little more serious again. After a few minutes they told us it was their commander, the big guy! I walked over and talked to him. I believe he wanted chicken!
They were such a pleasure to meet in the night and gave us a good feeling that peoples homes were being well protected.
They directed us to Kit Carson park where firefighters were arriving from all over the Western U.S. We immediately found a group of firefighters who had just arrived for FireStorm 2007 from another fire in Los Angeles. They were surprised and thrilled to get burritos from Chipotle.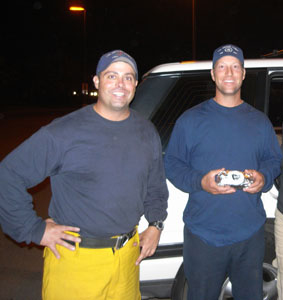 (A couple of L.A. firefighters with their secret burrito weapon.)
We then wandered around the camp handing out burritos to all.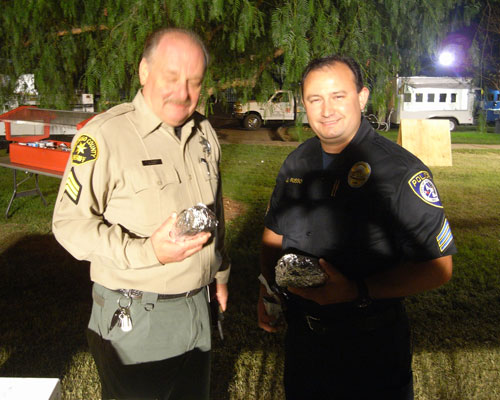 (The policemand and Sheriff sharing a midnight burrito.)
We gave burritos to cops, firefighters and national guardsmen.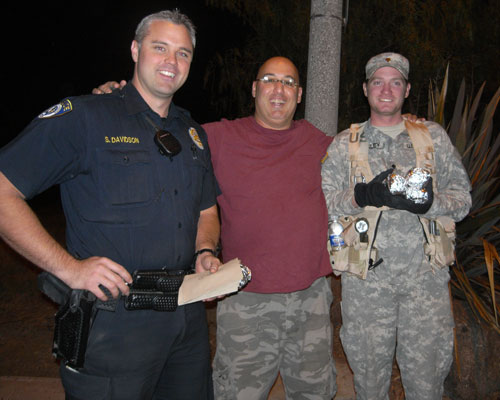 (Escondido Police and National Guardsman sharing a burrito together!)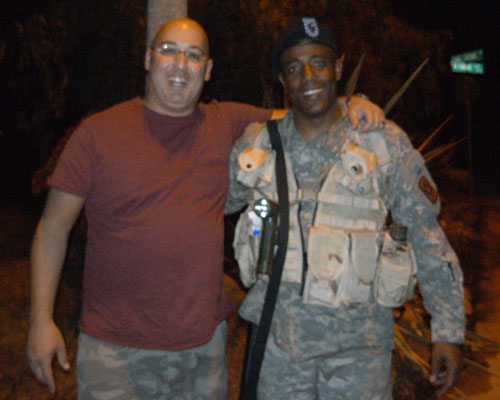 I got hungry along the way and even had one myself! It was delicious!
I started to wonder if any war could be ended just by handing out burritos to all sides?
I am so incredibly appreciative  to Kevin and all the crew at the Pacific Beach and Poway Chipotle's. It was so much fun to brighten up these guys nights with a warm burrito.
Chipotle is a great company, with great food given with a generous heart.
A huge thank you to all of you! The sticker below on the box says it all!
Dr. David Klein